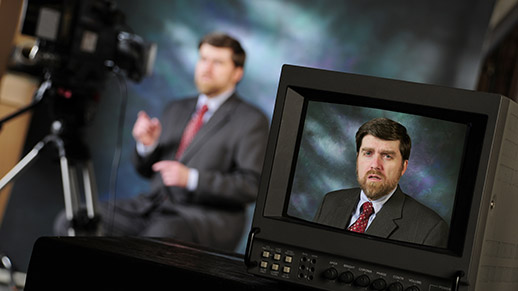 Talking Head videos are among the most common productions of all. It's one of the easiest and most cost effective ways to create video content for your business.
Talking head videos are usually medium close-up shots of someone talking on camera.
They're ideal for interviews, customer testimonials or even short explanations of products and services. Perfect for when you need to deliver your message with a personal touch.
Consider a Talking Head Video When You Want to Present…
CEO presentations to staff or clients
Finance bulletins as part of your company's annual report
Client testimonials
Keynote speeches
Opening/Welcome messages
Fast Turnaround
A great advantage of this type of video is that they can usually be produced and delivered very quickly. Ideal when you are working to a tight deadline. Once your video is fully planned out, it only takes a couple of hours to complete the shoot. In many cases we can deliver your finished video complete with titles within three days.
Enhance the Effectiveness of Your Talking Head Videos
For a moderate additional cost, it's easy to enhance and improve the effectiveness of your Talking Head video. Adding cutaway shots of other images such as your products, premises, staff at work, sales statistics, charts or any other graphic element will help keep your viewers interested and improve the effectiveness of your video.