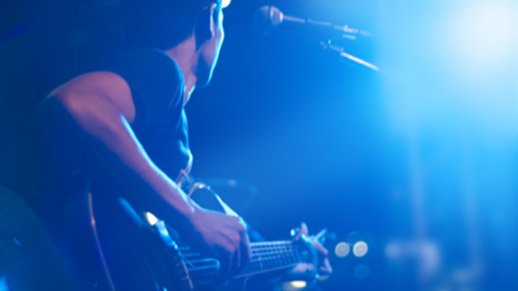 Music video productions have long been the 'ace up the sleeve' for promoting music artists.  It's the most effective tool to help raise profile, show off talent, build a fan base and extend the reach of marketing efforts.
It used to be that music videos were only available to those with deep pockets. But current advancements in technology have brought the cost of high quality equipment down to where it's possible to provide production at costs that can meet most budgets.
Performance Music Videos
Shows you delivering a performance of your music. Ideal for new artists and those on tight budgets. This style of video can be one of the most simple and cost effective music video productions.
On the other end of the scale, if you have a larger budget, a theatre or music venue location can be arranged with a cast of extras to help create the feel of a 'live gig' performance.
Narrative Music Videos
Great for when you want to accentuate the story. Creating scenarios involving the artist or played out by actors is a great way to showcase and illustrate your music and lyrics. Keep it close and intimate using a single actor in one location, or use a larger cast with multiple locations to create cinematic productions.
Abstract Music Videos
Sometimes it's just about capturing a vibe or building the mystery. You don't always have to appear in your videos or work out storylines. Many great videos have been made using animation, text, image slideshows or stock footage video montages.
Mix and Match Music Video Productions
Of course you don't have to settle for just one approach. It's possible to create your video using a mix of performance, story and abstract. Where budget allows, mixing between styles can work to create more interesting and visually compelling videos.