When Dave Whyte came to us to have a chat about creating a video for his solo guitar arrangement of the well-loved traditional song 'Peggy Gordon', we were keen to get on-board. We knew it would be a special piece, and we were delighted to have an opportunity to get involved in the project. Dave is a fine guitarist (in fact one of our personal favourites) so we knew the music would be top notch.
The Brief
On talking to Dave, it became clear just how important this new recording was to him. A big part of the soundtrack of his youth was the music played by his parents, and 'Peggy Gordon' was one of his mother's favourites. She had recently passed away, and as a personal tribute to her, he set about composing his own solo guitar arrangement of the song. The result, is a beautiful, serene and melancholic take on a traditional classic.
Dave was looking for a video to accompany the music. As the recording is such a gentle piece, we felt the word 'accompany' should be taken literally. This became an important focus of the brief. Create a video to stand alongside, and augment the performance, but not distract from or overshadow the music.
A Simple Approach and Concept
After brainstorming some ideas, we decided to create a performance video, mixed with elements that suggested the 'passage of time' as a central theme. The course of a single day was chosen to represent a life journey. The beginning and end would obviously be represented by the sunrise and sunset. The day in-between would be where the song played through.
Capturing the Elements
The main shoot was Dave performing the piece on his acoustic guitar. We blacked out a large room and puts lots of candles around him. The candles helped create a mood that matched the melancholy in the music. However, we didn't want the video to come across as some sort of religious statement. So we used a Celtic patterned cloth on the table to subtly shift the visual tone more towards a spiritual feel.
The microphone was a useful device to help orient the viewer when changing camera angles, and provided some interest in the foreground for the front shots.
A sundial shot was acquired as the main image to convey the passage of time. Timepieces are often used for this, but we felt the sundial in particular was a more noble image. More fitting than an hourglass, and not as clunky or clinical as a modern clock.
A second shoot day was spent capturing various time-lapse shots of clouds, including the sunset. The hypnotic motion of the clouds was a simple way to illustrate how things change over time. The time-lapse of the setting sun was a perfect fit for the gentle, slowing outro of the music.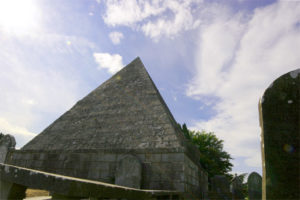 Keeping it Simple
As with all creative endeavours, it's important to know when to strip things back a little rather than keep adding. We had shot some interesting time-lapse footage of a pyramid we found in south Wicklow. However, in the edit, the pyramid seemed to shift the tone of the video a bit too much toward the abstract. Also, including it meant we had more edit points, which increased the pace of the video. Things began to feel a little rushed. As a result the pyramid didn't make it to the final cut.
The End Result
Public reactions to the finished video have been very positive. And of great importance to us, Dave is happy with the end result: –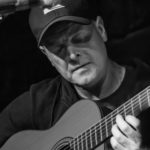 Dave Whyte
Composer & Guitarist
I was very happy indeed with the finished video. Considering it was a very personal piece in memory of my mum, I was also conscious that my family's thoughts and feelings would also have to be considered. Mediacraft were very considerate and listened to my concerns and together we suggested ideas that would eventually become the final production as it is today.
I showed the video first to my family, who found it appropriate and commented on how professional it all looked and sounded. I had similar comments from many friends. Everybody I talked to said they found it moving to watch.
As it was my first time to have a video set to a piece of my own music, I was a little unsure as to what to expect. But after having a chat beforehand with Tony from Mediacraft, and settling on which direction it should take, it was actually a simple and enjoyable process!
The video has been used a key marketing tool to help boost Dave's profile as a musician. It's also played a key role in raising awareness and interest in his forthcoming album. We're certainly looking forward to hearing it, and to working on future video projects with Dave.